And I'm not the only person who thinks Sweet Tooth Fairy is amazing! Since my review, they have opened 7 more locations,
won Cupcake Wars
, and have been asked to compete on
Cupcake Champions
.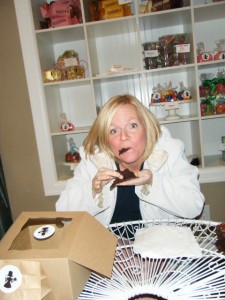 My good friend Kristin lives in Utah and frequents Sweet Tooth Fairy often. I live vicariously through her since I'm several hundreds of miles away from the nearest location. Kristin recently wrote a post about Megan Faulkner Brown, the woman behind the spatula at Sweet Tooth Fairy. Her post talks about how Megan is not just a great baker, but an inspiration in many different ways.
The Vocal Sokol
is giving away two dozen of Sweet Tooth Fairy's famous Cakebites to a reader of her blog. You can read about Megan and enter the contest
here
. If you win, I might make you send me half of your prize :)